No Events found nearby, try widening your search
Showing all 2 Events instead.
Wednesday, July 18, 2018, 6:00 pm
WISE Women - Meet the USA Women's Rugby Team and help support their efforts!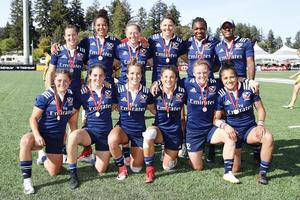 On July 18, you can meet the USA Women's World Cup team and help support their development by attending a fundraiser at the Rotunda Building in Oakland. All donations will go directly to helping the team.
The USA Women's team will have a team competing in the Rugby World Cup 7's in San Francisco July 20-22 at AT&T Park. With few efforts dedicated to the women's team, USA Women's Rugby co-founders Nicole Strasko and Morgan Roberts are building support for the USA Women's 7s program both on the pitch, and on the development side of the game.
For WISE members only, a 50% discount on tickets. Use WISE in the Promotion Discount to get your tickets for 50% off the entry price. Get your tickets here.
Come meet your USA Women's World Cup team!
Thursday, July 19, 2018, 5:00 pm
Join WISE SF Bay Area at the opening ceremonies of the Rugby World Cup Sevens on Thursday, July 19th at the Embarcadero Plaza to officially welcome the competing countries and their representative teams to San Francisco.
Starting at 5:00 P.M. in Embarcadero Plaza, at the foot of San Francisco's Market Street, the Welcome Ceremony will feature the men and women of the 40 teams competing in Rugby World Cup Sevens 2018.
Festivities will be ~60 minutes, followed by a WISE happy hour at Sens (4 Embarcadero Center), to learn more about the RWC7s!
Specific meeting location to be announced - stay tuned!
About the RWC7s:
The first Rugby World Cup on American soil, Rugby World Cup Sevens will be played at AT&T Park July 20-22, 2018. The foremost stand-alone in international rugby sevens competition, Rugby World Cup 2018 will see the best teams from around the globe – 24 men's and 16 women's – compete for the coveted title of Rugby World Cup champions. Competing nations / territories include Argentina, Australia, Brazil, Canada, Chile, China, England, Fiji, France, Hong Kong, Ireland, Jamaica, Japan, Kenya, Mexico, New Zealand, Papua New Guinea, Russia, Samoa, Scotland, South Africa, Spain, Tonga, Uganda, Uruguay, United States of America, Wales and Zimbabwe.