WISE Women - Meet the USA Women's Rugby Team and help support their efforts!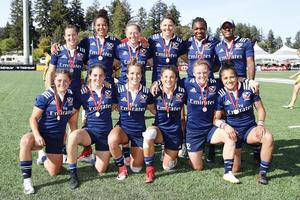 On July 18, you can meet the USA Women's World Cup team and help support their development by attending a fundraiser at the Rotunda Building in Oakland. All donations will go directly to helping the team.
The USA Women's team will have a team competing in the Rugby World Cup 7's in San Francisco July 20-22 at AT&T Park. With few efforts dedicated to the women's team, USA Women's Rugby co-founders Nicole Strasko and Morgan Roberts are building support for the USA Women's 7s program both on the pitch, and on the development side of the game.
For WISE members only, a 50% discount on tickets. Use WISE in the Promotion Discount to get your tickets for 50% off the entry price. Get your tickets here.
Come meet your USA Women's World Cup team!